The existing kitchen was cramped and dated and no longer met the client's needs. The kitchen layout was awkward with limited counter space and cabinetry. Hanging soffits blocked the line of vision into the living room and limited storage. The client wanted a Modern open concept kitchen perfect for entertaining large groups of people. The old-world Saltillo tile flooring, closed off kitchen and Ikea style cabinets lacked any reflection of the client's personality and style. "Please give us a large Modern kitchen that is both functional and glamorous that we can enjoy cooking and entertaining in for years to come."
The kitchen was fully transformed into a bright open space that incorporated the best functionality possible. Soffits were removed, the fridge wall was pushed down and space was stolen from the entry and mud room to accommodate a large kitchen full of sleek cabinets and gourmet appliances. A large island with quartz countertops provided ample prep space and offered additional seating for many to gather around. A unique mirrored marble backsplash gave the kitchen the perfect finishing touch and added a touch of glam and sophistication to the space. LED undercounter lighting and a beautiful crystal chandelier added layers of dimension and create ambiance. Large format porcelain plank tiles help create better traffic flow and warm up the space by use of texture and color.
Replace the cabinets, countertops & flooring and create a more functional space with "wow factor"
Add a full pantry w/full extension roll-outs
Create larger eat in island with seating to accommodate 6-7 people
Install large porcelain plank "wood look" tiles on the floor with minimal grout joints
Update the can lighting to energy efficient LED's
Build the microwave into the lower cabinets
Add double wall ovens
Needed a lazy Suzan in corner cabinet
Wanted a cooktop on the island with a downdraft
Center a farmsink under the kitchen window
Installed undercounter lighting and hidden plug in strips
Wanted a Contemporary look with a touch of glam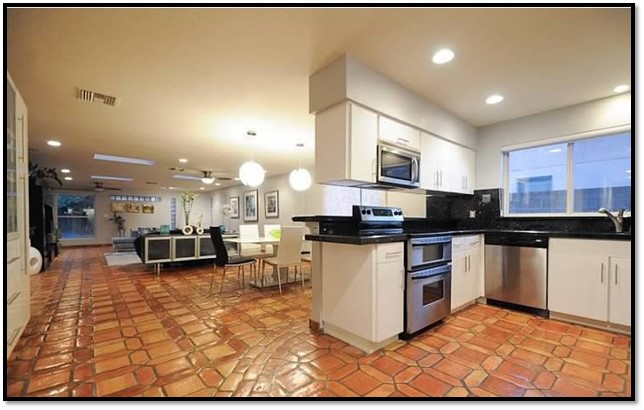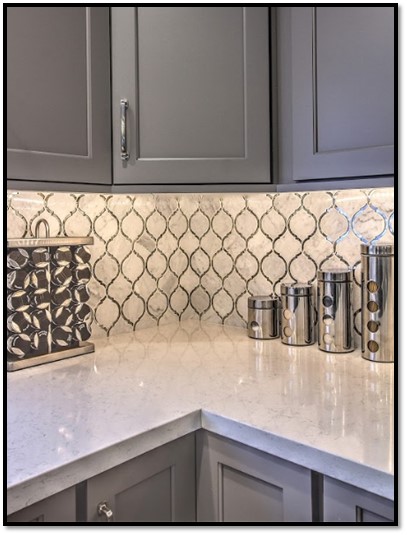 As the project came to an end, we completed a Modern and classic looking kitchen that was very functional and blended seamlessly with the style of the client's existing home. Beautiful two-tone cabinets provide ample storage solutions with multiple pull outs and full extension drawers. The kitchen boasts a large eat in island that the homeowners can use as a work space or for hosting large parties and get togethers.
The soft marble looking quartz countertops brighten up the space and give this kitchen an open and airy feel without any of the maintenance of real marble. The farm sink looking out over the window was a perfect touch in adding that classic charm to a very Modern kitchen. The mirrored glass and marble backsplash bounce light and add sparkle to the space.
Layers of different lighting provide both energy efficiency and ambiance that can be adjusted to create a soft glow in the evening or functionality during the day. A combination of crystal and glass add drama and grandeur to this beautiful space. Bright colors, clean lines and stainless steel give this kitchen desirable class. The clients felt we met all their wish list items and couldn't be happier. The kitchen truly is the heart of the home and in this space the homeowners can look forward to creating many more memories with family and friends.