Our clients were looking, over a period of time, to remodel their existing master bathroom. They were unsure of what materials they wanted to use for the overall design. The immediate requests, after meeting with our new clients, were to remodel their master bathroom by implementing a new design, which provided a dramatic, yet classy look. Another important and necessary change was to ensure safety within this space since our clients had experienced an unfortunate slip in the past. Last, but not least, the clients desperately needed more storage and wanted to maximize all useable space. We were excited to share our ideas and to accept the challenge to design a safe and timeless-looking space in which the clients could enjoy for many years.
Our clients wanted the look of marble, without the maintenance of natural stone, in addition to a bold contrasting element within this space. The goal was to use similar materials throughout, but implement various patterns and textures to create a visual flow from one area to the other. To maximize storage and to propose a contrasting element, we designed the cabinetry using maple cabinets with a raised panel and an onyx finish, for a classic look. This design included a grand arch and luxurious granite countertops, in which we implemented on the tub deck and within the shower to create a smooth visual flow once again. The cabinet finish allowed the natural light from the window to provide colorful dimension to the overall look of the cabinets. The result was a dramatic contrast against the elegant marble throughout the space. The vanity would be complete, after selections for the vanity mirror, lighting, plumbing fixtures, and bath accessories were finalized! The shower was wrapped in breathtaking porcelain slabs, intended to look like marble and to provide little to no maintenance. We addressed safety by incorporating sleek grab bars near the entry of the shower in addition to the back wall near the showerhead and corner bench. Ensuring that we met all of our clients' needs and requests, implementation of specific materials and design elements accomplished these desires.
Client's Needs & Desires:
Increase safety and change overall appearance to a bolder, classier look
Design to include bold selections while keeping a timeless appearance
Contrasting elements and patterns
Create a curb-less, walk-in shower
Increase the size of the shower for a more open feel
Install different flooring material to increase safety and  overall appearance
Shorten the height of the shower wall to create the illusion of more space in the shower
Install sleek grab bars for added safety while keeping the appearance cohesive
Provide additional lighting
Keep existing tub but provide the look and feel of an under-mounted tub
Build a step at the tub for safety and a grander appearance
Install a large waterfall shower head and a hand help fixture in the shower for a more spa-like feel
Client's Needs & Desires for Vanity Area
Maximize space for efficient storage
Bold contrast
Grand look
Custom accessories for storage
Requested electrical access for hair accessories
Hidden trash bin
Deep drawers for storage
Hidden lights in vanity for close-up
Low maintenance
No more "BEIGE"
Overall "WOW" look
Calcutta Porcelain Slab:
Used for the master bath shower walls
*Note: Innovative material used and intended to look like marble and provides low maintenance
Soho Silver Stacked Mosaic:
Used for the master bath shower deco band as well as for the backsplash on the tub surround
Outback Granite:
Used for the master bath vanity counters, tub decking, pony wall ledges, and corner bench seat
Challenges & Obstacles
The porcelain slabs specified in this design required our installers to go through an extensive certification process
Overcame the obstacle of transporting these fragile slabs by using proper equipment
Faced challenges trying to book match the veining above and below the deco band
Trouble when trying to install with minimal visual of the seam between slabs
Extensive time was spent to miter all corners for the porcelain slabs
All hardware and grab bars took twice as much time to install due to the slabs being so fragile
Lighting issues from an abundance of sunlight shining through the glass blocks making it difficult to see
Cutting the concrete to build a curbless shower posed an obstacle since the concrete was almost an entire foot thick. It took twice as much time to remove the concrete
The installation and fitting of the vanity mirror was a challenge due to its size
Lighting placement was another obstacle to overcome since there was so much sunlight in this space already, we had to make sure we lit the room properly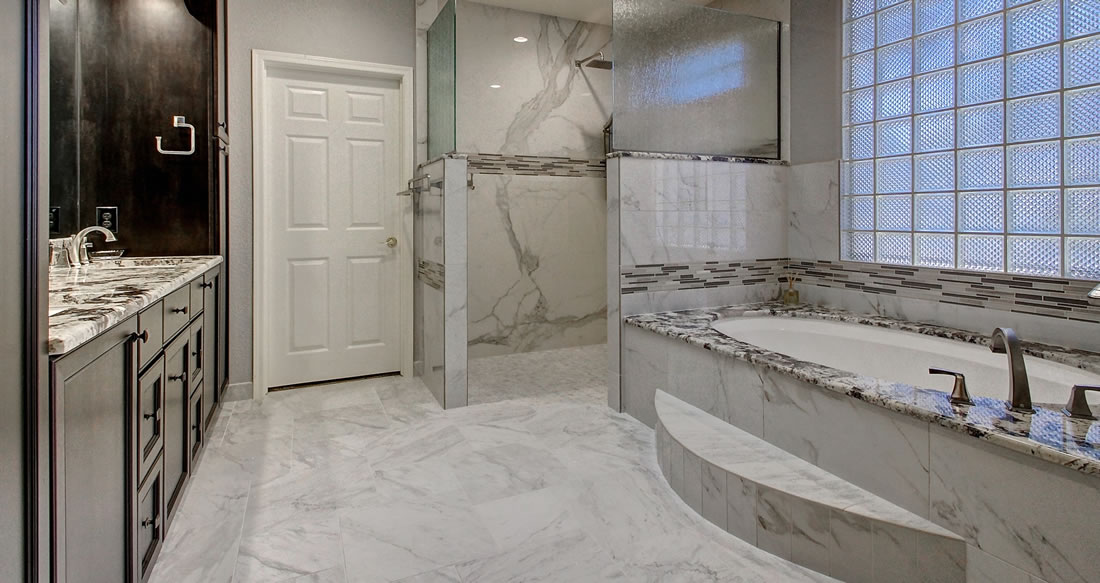 Function & Aesthetic Project Enhancements:
Designed and built a curb-less, walk-in shower to increase functionality and safety within the shower area
Created a more open feel by shortening a tall wall in the shower and adding glass to allow light to flow through
Continued the open feel by specifying light-colored materials that have a lot of movement and minimal grout lines creating symmetry and balance
A bench was designed for in the shower to offer comfort and safety while shaving and/or washing
The control valves were installed on the opposite wall of the showerhead for easy accessibility prior to going into the water
A large recessed niche was built-in to the shower to provide storage and keep a clutter-free look
Superior Craftsmanship & Aesthetic Enhancements:
The design included textured glass which was cut into 2 custom sized pieces and installed on top of the pony walls, flanking the walk-in shower's entry
A curved step was designed and built for easier entry into the large tub
Tiles were cut into custom-sized linear strips and installed on the face of the step to enhance the look
The same granite material used on the vanity was also installed on the tub deck of the existing tub to provide an under mount look
Finishes used in the shower were duplicated around the tub area to maintain a cohesive look
Superior Craftsmanship
Semi-custom vanity with full extension drawers for easy access
Comfort height vanity includes soft close drawers and doors
Decorative valance for a grand appearance
Tall cabinet units flank each side of this vanity and are visually connected with a valance allowing a grand, built-in look
Our clients initially requested a variety of needs, including, but not limited to, safety, low maintenance materials, and a sophisticated design. To ensure we met all of our clients' needs we designed a curb-less walk-in shower for added safety and a classier look. We also selected low maintenance materials such as porcelain slabs, porcelain tiles, and a gorgeous, low maintenance granite to guarantee a cohesive look overall. Our clients are thrilled about the fact that after the project was completed they have had no maintenance throughout this newly remodeled space!