Master Bath Retreat – A Visual Grandeur
After several years in their home, this client was tired of their master bathroom and was ready to update their bathroom from the standard contractor-grade materials to a space that reflected their own personality and style. They had basic white cultured marble everywhere and shower doors that constantly got stuck on the track. The client wanted to update the space with a more modern pallet of gray tones, large format tiles, and various shapes and texture. A future concern of mobility was also a factor to consider in the decision to remodel.
Our client desired a large curbless walk-in shower with a pony wall with glass on top and a bench seat for relaxing. The clients wanted to use products that had the look and feel of concrete and pebble without any maintenance so a large porcelain tile with a more industrial look was selected and man-made quartz was fabricated for the countertops.
Gorgeous walk-in shower with 12″ x 24″ porcelain tiles laid horizontally, decorative penny rounds placed between porcelain tiles and in the niches, and hexagon tiles on the shower floor. The bathroom floor is tiled with 12″ x 24″ porcelain tiles laid in a herringbone pattern. A new comfort-height double vanity was installed, with large square under-mount sinks and faucets. The contemporary cabinet doors and sleek hardware compliment the warm gray finishes in the rest of the bathroom.
Clean-lined chrome plumbing fixtures continued the look of the space. We completed the look of this master bath by painting the walls a soft grey and the doors and moldings bright white. The barrier-free shower and thoughtfully located grab bars solidify a design that accommodates a wide range of individual preferences and abilities. The result was a stylish and functional bathroom, perfect for our client's unique sense of style and is now a space they will enjoy for many years to come.
Expressed Needs of the Client:
Client wanted to update the "builder grade" shower surround and cultured marble countertop
Timeless shower design with the use of decorative materials
Design the new shower "curb-less" so that the client can access easily in the future
Concerned about safety and requested grab bars
Full-size bench to relax on and use for shaving
Need pony wall to hide shower products and keep clutter hidden in the shower
Modern comfort height vanity cabinet with two under-mount sinks
Quartz countertop that blended with the look of the porcelain tiles
Client requested a rain shower head and an adjustable height shower head with water jets for Spa kind of feel
Custom tile work on the floor in a unique herringbone pattern
New tile baseboards that keep maintenance low and moisture not an issue
Vanity Before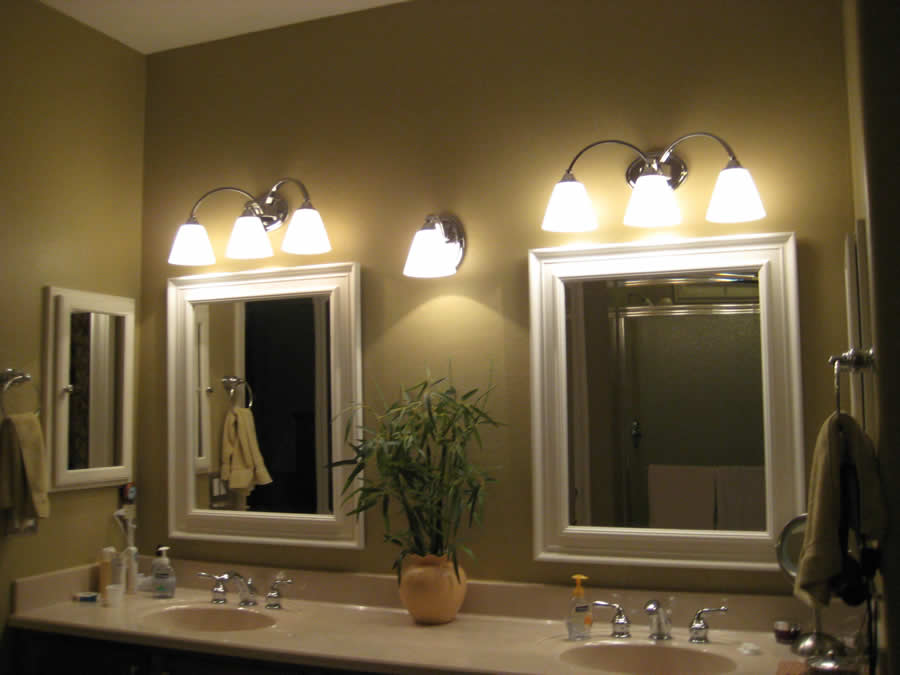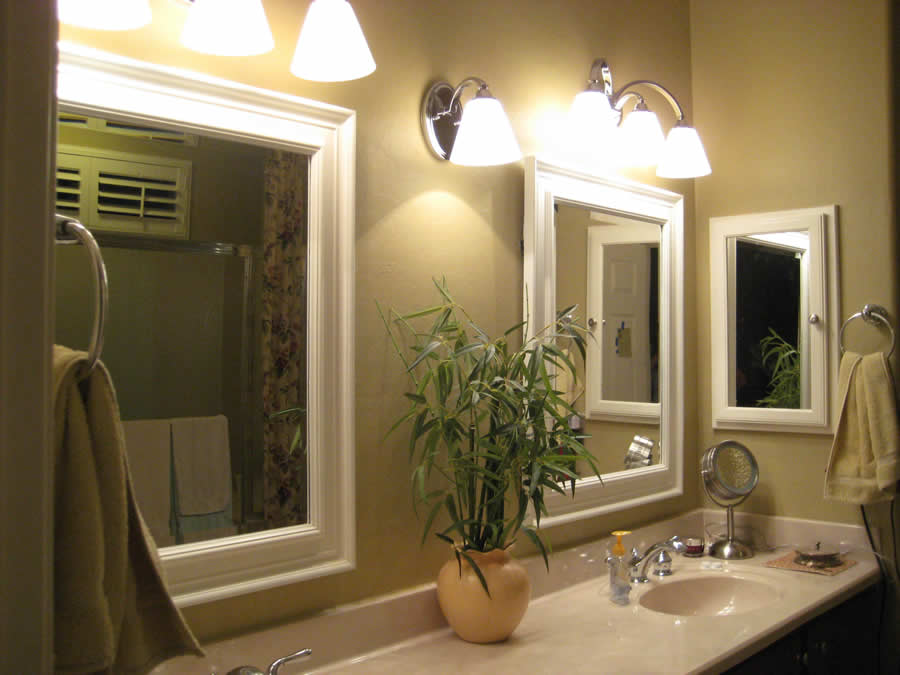 Shower Before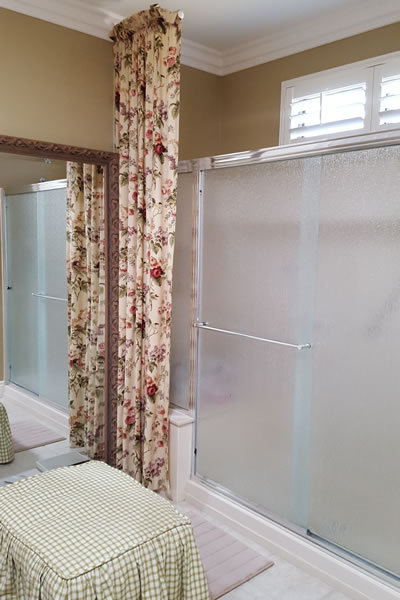 After Remodel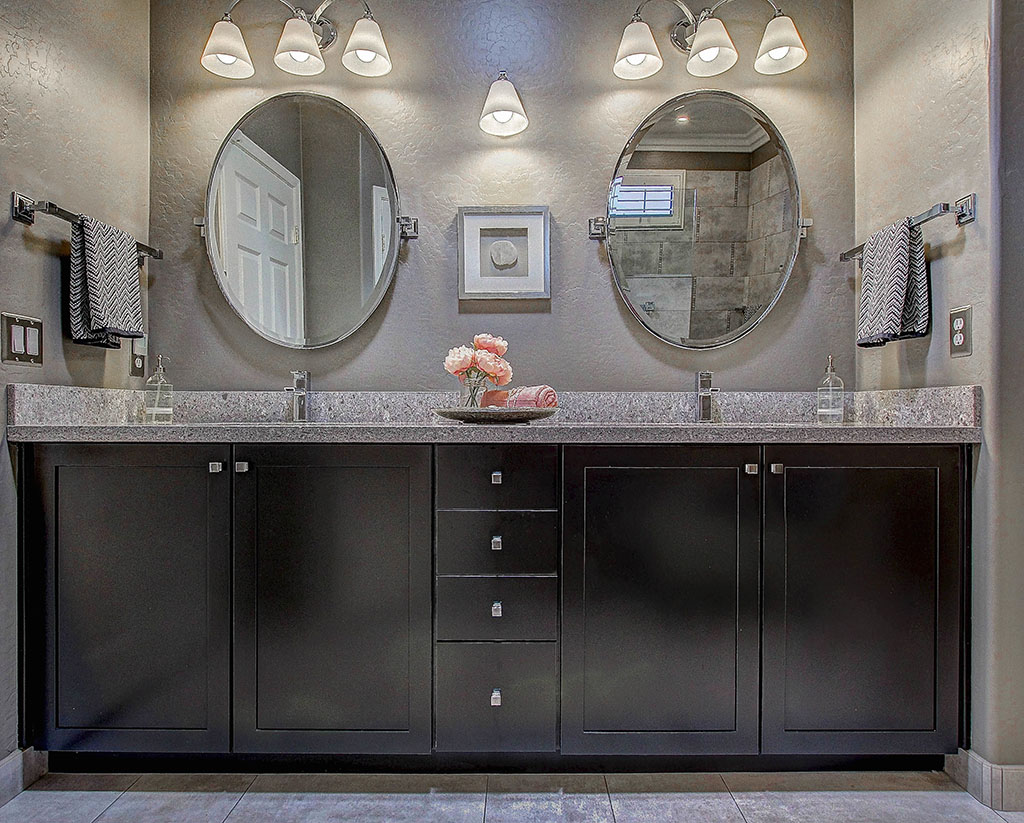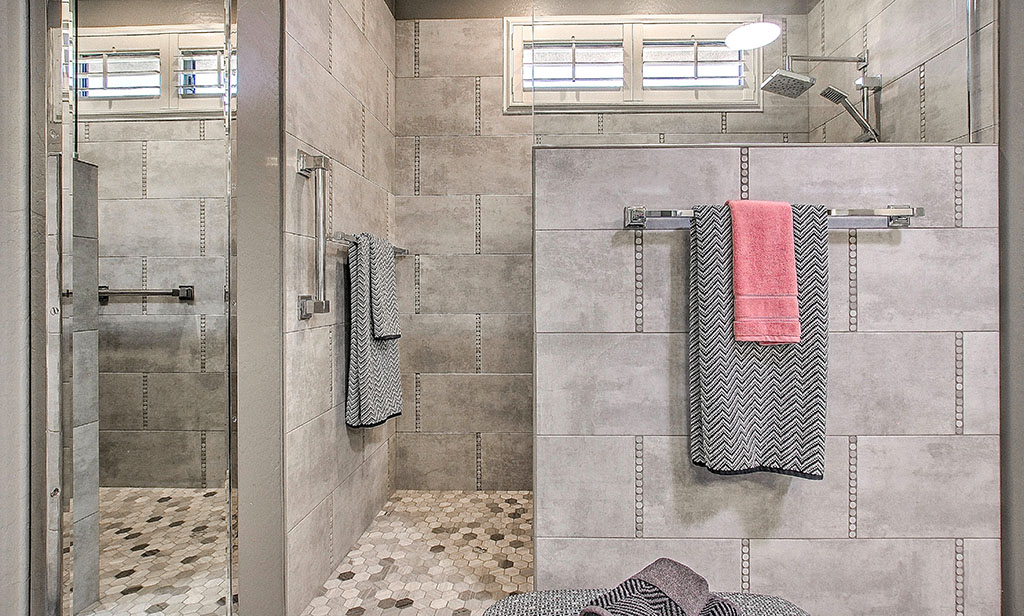 Addressed Needs of the Client:
Designed a curb-less walk-in shower to eliminate complications or limitations based on physical ability
Relocated the control valves on the pony wall so that customer can turn on the shower easily without getting into the shower
Updated the bathroom with fresh and Innovative materials
Updated the faucets, lights, and accessories to sleek modern fixtures
Added a grab bar in the shower, keeping customers safety in mind
Built a pony wall for privacy with recessed shampoo niches to hide all the products and give a clean shower look
Installed a full-size bench conveniently located near grab bars and the hand-held shower fixture
Installed Shaker-style maple cabinets with an onyx finish
Quartz countertops with two mirrors and light fixtures were installed above the vanity to complement the symmetry of the cabinet design
The bathroom floor is tiled with 12″ x 24″ porcelain tiles laid in a herringbone pattern and custom tile baseboards to complete the new look of the bathroom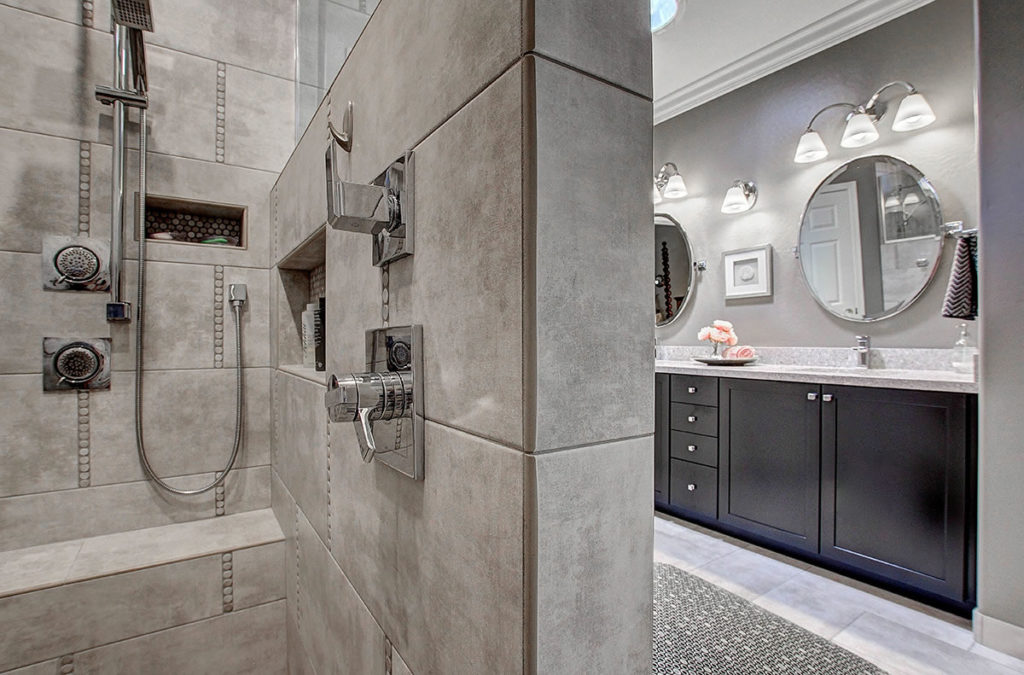 Design Phase: Conceptual Drawings
Innovative Materials:
A bistro mirror paired clean lines with rich visual texture. The beveled mirror had exposed screws which gave a machine age detail and the oval Sutton mirrors gave the look of modern sensibility
Gorgeous walk in shower with 12″ x 24″ porcelain tiles laid horizontally with decorative penny rounds placed between porcelain tiles and the back of the niches
Hexagon tiles with added texture were used on the shower floor to avoid slipping
The bathroom floor is tiled with 12″ x 24″ porcelain tiles laid in a herringbone pattern
Functional Project Enhancements:
Designed a curb-less walk-in shower to enhance design and function without any boundaries
Added a shower slide bar so that customer can adjust the height of the shower head
Added grab bars to aid in safe movement within the new shower, and avoid any accidents
Designed a full-size bench in the shower to sit and relax
Shampoo niches in shower are conveniently placed
Towel bars installed near the shower entry make it easy to hang clean or wet towels without having to walk outside of the space
The pony wall adds both privacy and functional storage while the frameless glass still allows light to filter through and the beautiful tile work is not obstructed from view
Aesthetic Enhancements:
Decorative penny rounds placed between porcelain tiles helps to create vast visual interest throughout the space
The polished nickel beveled edge mirror with exposed screws adds a touch of industrial
We selected a deep cabinet wood stain to contrast with the light toned porcelain tiles to bring in more color and compliment the shower
The more contemporary choice of shaker style cabinet doors, sleek brushed nickel accessories and faucets, and undermount rectangular sinks compliment the porcelain tile on the floor
Beautiful quartz countertops, add an elegant yet low maintenance element to the vanity
Superior Craftsmanship:
Bench Seat is slopped to drain
All exposed edges of tile are bull-nosed by hand and polished to enhance the beauty of the tile and create a more custom look
Painted all the edges of porcelain tile with a custom color matched paint so the edges disappeared
Installed large porcelain tiles and used epoxy based Fusion grout with 1/16" grout joints for easy maintenance and tight grout joints
Contractor Challenges and Obstacles:
Creating a curb-less walk-in shower required removal of the concrete flooring and pouring new concrete. That concrete slab was 12 inches thick and it took a lot of extra time and labor to cut the slab
Relocating the plumbing controls to the pony wall, plumbing for the water jets, rain shower and hand held presented many unexpected challenges during the "rough in" phase
Relocation of the shower drain and sloping the shower floor for even water drainage
Customer wanted the through body porcelain tile to have a finished edge that matched the tile so a custom paint was applied to all the exposed edges of the tile to give a finished look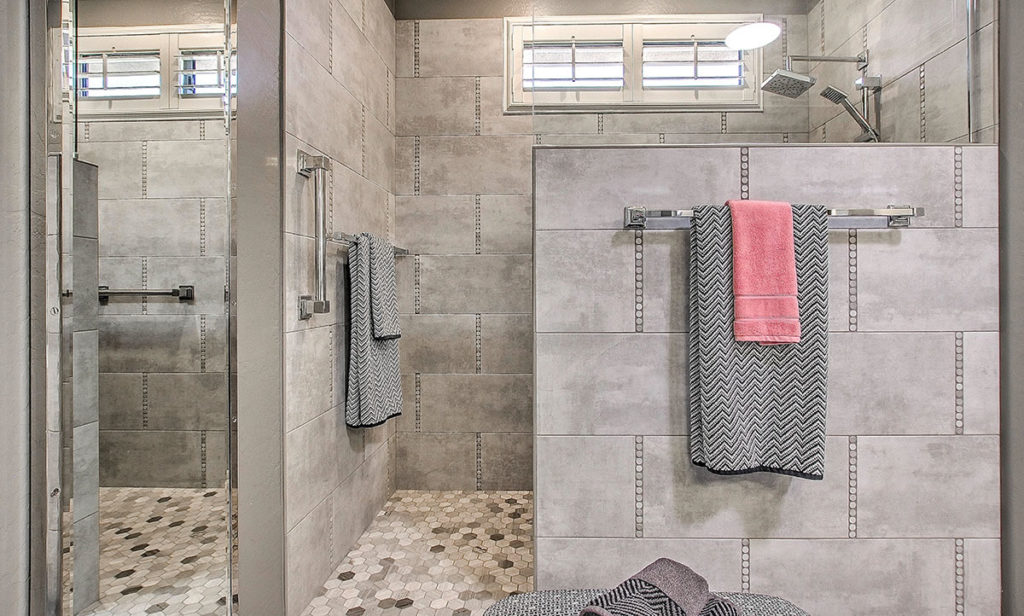 Conclusion
Our clients initially requested a variety of needs, including, but not limited to, safety, low maintenance materials, and a unique Modern design. We were posed with the challenge to transform an outdated "builder grade" space into a dream master bathroom that our clients could enjoy and utilize for the long term. To ensure we met all our clients' needs we designed a curb-less walk-in shower for added safety and a more streamlined look. We also selected low maintenance materials such as porcelain tiles and quartz countertops to guarantee a cohesive look overall.
The homeowners now have a Modern retreat getaway right in their own home. This revamped master is both functional and esthetically pleasing. Multiple shower heads, body sprayers, large bench seat to relax on, the look of concrete and stone without any of the maintenance, universal warm gray tones, a newly updated double sink vanity will make this a space they look forward to using every day. Our clients are thrilled with their newly remodeled master bath and feel that this 'visual grandeur' truly reflects their unique style and will be a space they will always enjoy!